Third Party Risk Management (TPRM)
Still assessing vendor cyber risk via spreadsheets and email?
The more data that we share with third party organisations, the more that we need to vet and assess them to gain a clear understanding of how seriously or how well prepared they are to be the custodians of our data.
The trouble is that the de facto practice of sending risk-based questionnaires in spreadsheet format to third party contacts, having to manually chase and follow them up; and then re-type response data into spreadsheets in order to report risks to the management team, is hugely inefficient – albeit well meaning.
Elasticito aims to radically transform the process of assessing vendor cyber risk by automating large parts of the people and content based elements of the process.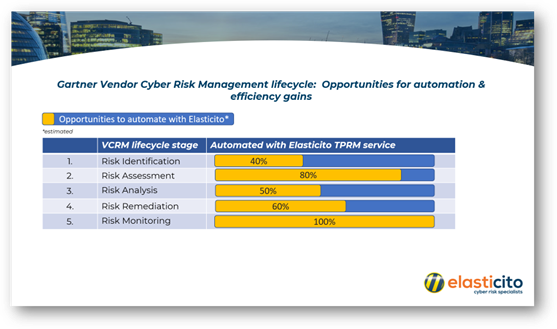 No more spreadsheet based risk assessment questionnaires and Excel based risk registers
Elasticito's world class Third Party Risk Management tools and accompanying services transform this process by providing an end-to-end cyber risk assessment and governance platform that replaces spreadsheet-based risk assessments with a slick and professional portal environment where third party users are invited to complete relevant dynamic risk questionnaires, where automated workflows keep tasks in order and reporting and insights are generated automatically by the system.
Enterprise risk and information security teams are generally very busy people. Let's not make their lives more overloaded by being inefficient.
Cyber GRC for the 21st century
Get in touch with us to discuss your cyber risk management plans. We also offer a full and partial managed service to take the weight off your team's shoulders.
Find Out More
Additional Resources
Got a project you want to discuss?