Webinar – Automated Breach & Attack Simulation vs Penetration Testing to validate security controls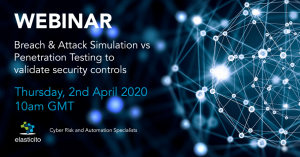 Over 1,000 exploits and vulnerabilities are publicised every month. It is no longer effective to solely rely on point-in-time manual penetration tests to test your defences.
In this webinar, you will learn how a new generation of automated Breach & Attack Simulation solutions are transforming the way that offensive security testing is conducted across the whole network, safely and continuously, to provide evidence-based data on the effectiveness of security controls.
Who should attend?
– CISOs
– Security Architects and Strategists
– Offensive Security specialists
– Security Operations professionals
When?
Thursday 2 April 2020 at 10:00 GMT